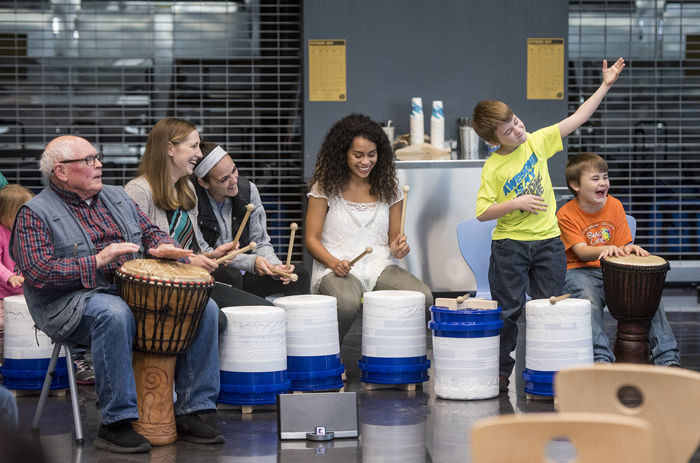 Lights on After School
Event Shows Support For After-School Programs
By ELLIE POTTER Daily News-Record
HARRISONBURG — About 10 years ago, Ninoska Bertran was paired with Tiffany Showalter through Big Brothers Big Sisters of Harrisonburg and Rockingham County.
Bertran, who was 8 at the time, thought she and Showalter would hang out a few times, she said, but did not have high expectations.
A decade later, she said, Showalter has been the most consistent person in her life, aside from her mother. Her big sister inspired her to become involved in service organizations and go to college, while other students from her neighborhood are now incarcerated.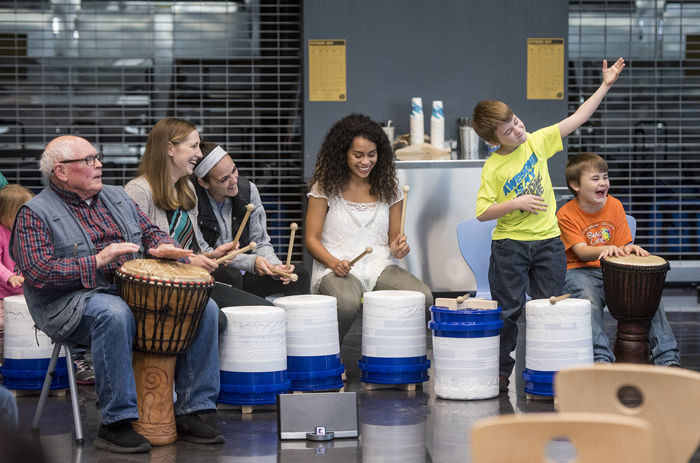 The "big" and "little" sisters shared their story Thursday evening at Bluestone Elementary for the Harrisonburg Out-of-School Learning Coalition's event, Lights On Afterschool, which promoted the important role such programs play in children's lives. The coalition is an organization with 11 youth-serving members in the city.
"Thanks to Tiffany and Big Brothers Big Sisters, I have a great role model that I always keep at heart," Bertran said. "I have no idea who I would have been if Big Brothers Big Sisters didn't offer me this opportunity."
The event, which about 70 people attended, featured several student performances, including songs by the Thomas Harrison Middle School's Eastern Mennonite University violin group, a drum circle from the Boys & Girls Clubs of Harrisonburg and Rockingham County and a routine by On The Road Step Team.
Brent Holsinger, Harrisonburg City School Board member and president of On The Road Collaborative, a nonprofit youth empowerment organization, said Thursday's event was one of 8,000 rallies across the country showing support for after-school programs.
After-school activities provide students with academic support, access to arts, sports, college and career opportunities and connections to caring adults, he said, as well as helping working families.
Laura Toni-Holsinger, executive director of United Way, said the programs help keep the "light bulbs on" in students' minds even beyond the school day.
"When the lights are on in our community, the community is growing," Toni-Holsinger said. "It's growing in its knowledge and understanding of one another. It's growing in our students that will go to college and career opportunities that will inspire them."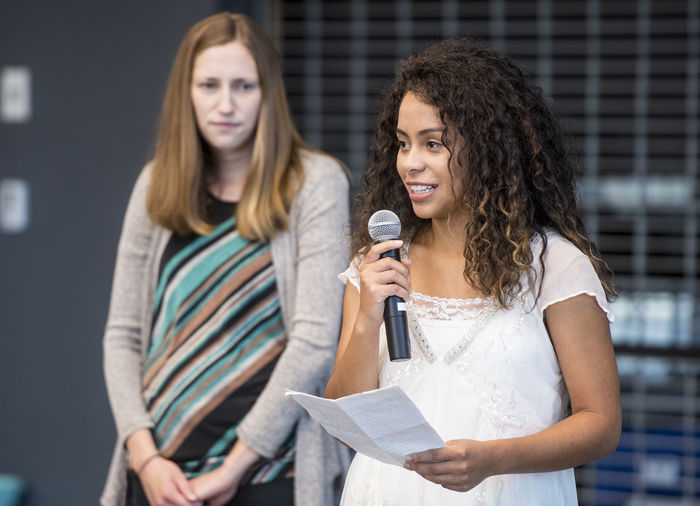 And for some kids, after-school programs serve as a second family, said Lori Kizner, Boys & Girls Clubs' executive director. Many students' parents work beyond 3 p.m., leaving children to return to empty homes at the end of the school day. These programs give kids somewhere to go rather than getting into trouble at home, Kizner said.
Three Harrisonburg High School students also spoke, discussing how Valley Scholars, an academic program with James Madison University that guarantees a full-ride scholarship based on grades and merit, keeps them focused on their long-term goals.
"It's given us a sense of security in our future," said freshman Danait T Medhin, 14, "and we know that we can achieve it if we follow this program."
Craig Mackail, assistant superintendent of Harrisonburg City Schools, said the division is fortunate to have after-school programs, which the administration values.
"We know what it does for kids," Mackail said. "We know what it does for families. We know what it does for them academically, socially and emotionally. And we support after-school programming any way that we can."
Contact Ellie Potter at 574-6286 or [email protected]
* Reposted with permission from the Daily News-Record