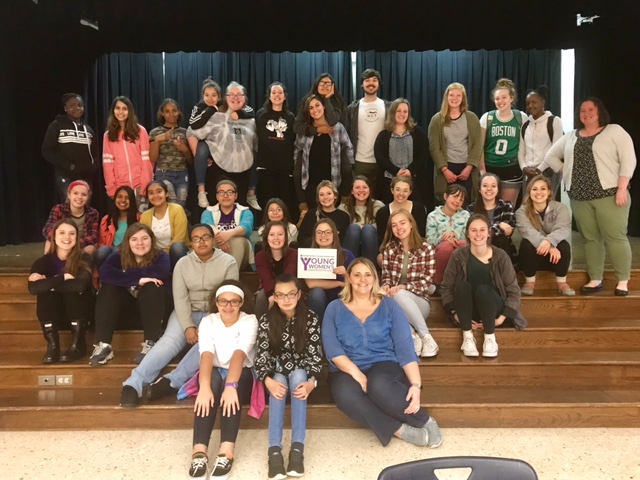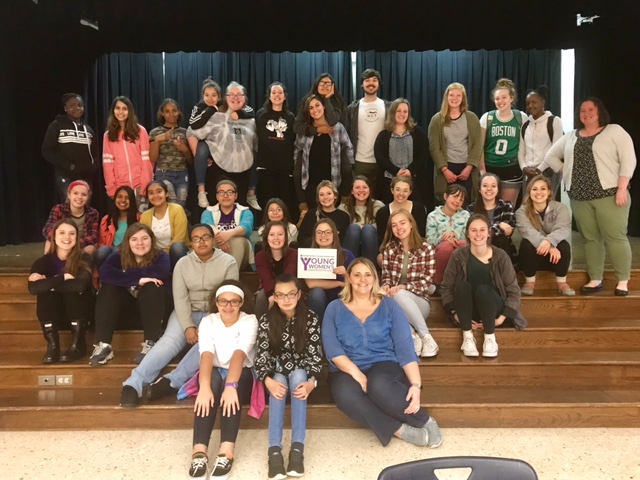 Last week, the Young Women's Leadership Project (YWLP) celebrated the end of the semester with their JMU student leaders. Throughout the semester, students from Dr. Jen Almjeld's Writing, Rhetoric, and Technical Communications class at JMU have been leading afterschool sessions for the YWLP.
The YWLP is in its third year and enrolls 25 seventh and eighth-grade girls at Thomas Harrison Middle School identified by school counselors as showing the potential for leadership. The girls participate in weekly, out-of-school group learning opportunities and will also be matched in a one-to-one mentoring relationship with an adult female. The curriculum has included activities focused on healthy behaviors and relationships, self-esteem and self-expression, career exploration and leadership.
At the celebration, the 7th & 8th grade girls took a turn to lead by planning and delivering mini-workshops to "teach back" to the JMU student leaders. The event gave the girls a chance to be creative and teach about topics that were meaningful to them, including making slime, lip gloss, hairstyles, friendship bracelets, current slang terms, and creative writing. Check out these photos from the event.
"I've seen a lot of growth in all of the girls over the years," said Molly Jackson, Big Brothers Big Sisters Match Support Specialist and YWLP Project Coordinator. "This year has been especially cool to watch the 8th graders having a chance to lead and the 7th graders having an opportunity to connect with older girls in their school. It's been amazing watching the girls really come into their own from the time that we enrolled them in sixth grade to now as 8th graders. It's been a wonderful journey to watch their personalities and interests develop."
A special thank you to Dr. Almjeld and Thomas Harrison Middle School counselor Vanessa Redmond for their partnership in facilitating the Young Women's Leadership Project for the past three years. The experience has provided a tremendous opportunity for young women in our community to embrace their potential for leadership and develop skills to help them create brighter futures for themselves.
About the Young Women's Leadership Project:
The YWLP is a collaborative project between Big Brothers Big Sisters, Camp Horizons, Harrisonburg City Public Schools, and faculty at James Madison University. The YWLP, funded by Merck and private donations, is aimed at empowering at-risk middle school girls to develop self-confidence and become aware of their leadership skills and opportunities.

The project seeks to address growing challenges faced by at-risk adolescent girls in the Harrisonburg community which include substance abuse, a high drop-out rate, and a teen pregnancy rate that is nearly three times the state average for girls ages 15-17.  Big Brothers Big Sisters employs its evidence-based, high-quality mentoring model to inform the development of the project and ensure positive outcomes for the young women enrolled.