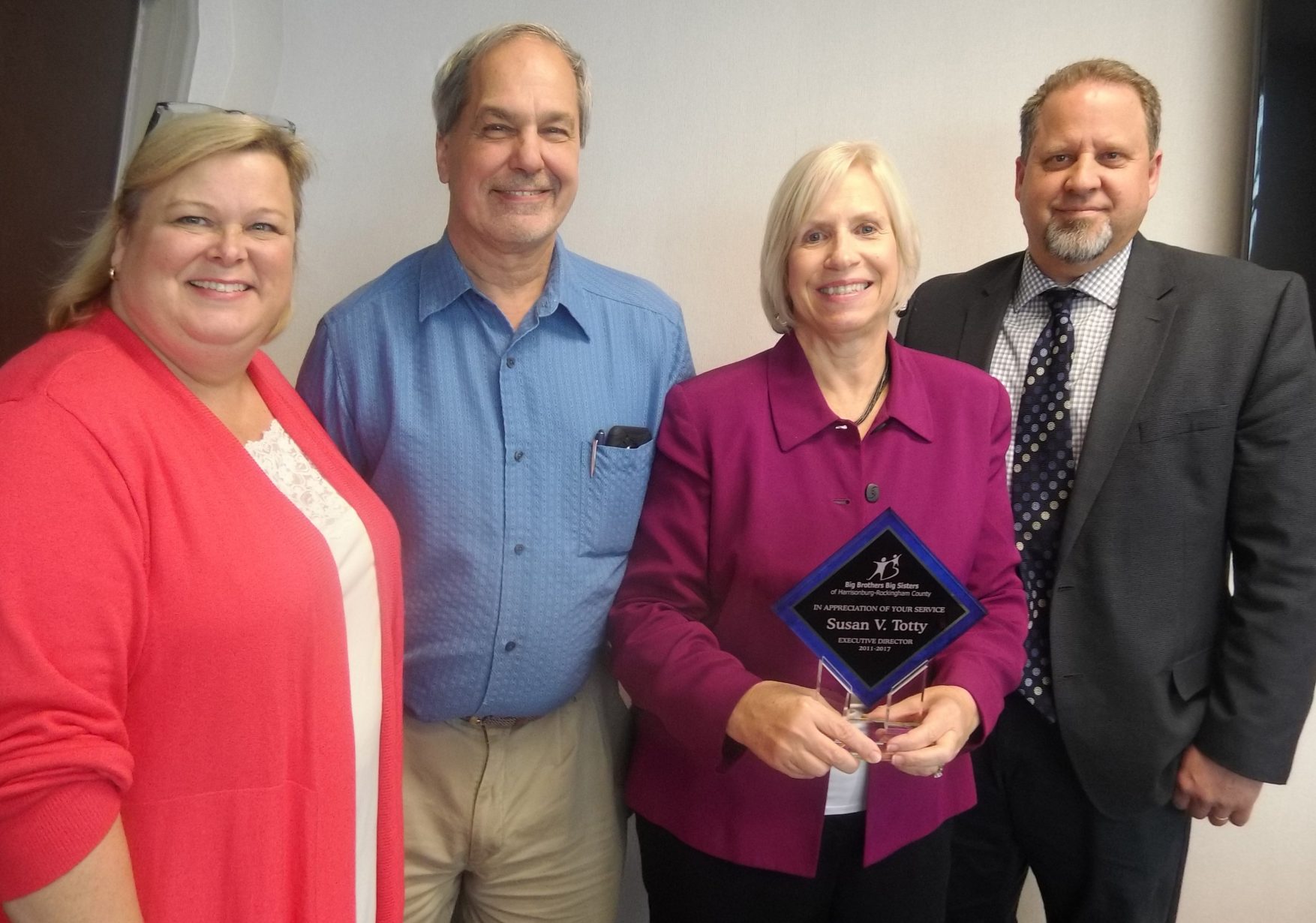 Present and Past Board of Directors members Jean Hieber, Harry Reif, and Jeff Furman with Executive Director Sue Totty
Past and present BBBSHR Board of Directors members presented retiring BBBSHR Executive Director Sue Totty with an award in honor of her service at the most recent Board of Directors meeting. "We have been extremely fortunate for Sue's leadership over the past six years," says BBBSHR Board of Directors President Tomika Ferguson. "Her vision has guided our outreach and informed our programming to establish Big Brothers Big Sisters as a leading partner in addressing the specific challenges of local youth."
Totty's career in nonprofit leadership spans three decades. Most recently, before coming to Big Brothers Big Sisters, Totty served for nine years as the director of state programs for the North Carolina Partnership for Children in Raleigh, North Carolina. Totty will transition into a consulting role with Big Brothers Big Sisters of America but plans to stay connected with the local affiliate and community.
"It has been an incredible honor to serve the children and families of Harrisonburg and Rockingham County," says Totty. "I am grateful for the opportunity and have great faith in the tremendous board and staff in place to carry on this critical work in our community."
The Board of Directors has selected current BBBSHR Assistant Director Lindsey Douglas as the next leader of the local chapter. Douglas began with the agency as the Volunteer Recruitment Coordinator in May of 2010 and moved into the Resource Development Director role in October of the same year.
About Big Brothers Big Sisters:
Big Brothers Big Sisters of Harrisonburg-Rockingham County is a youth-services organization that pairs adult mentors in professionally guided, one-to-one matches with children facing adversity. As an affiliate of Big Brothers Big Sisters of America, the nation's largest donor and volunteer supported mentoring network, the organization holds itself accountable for children in the program to achieve positive, measurable outcomes through research-based methods. Among other improvements, local evaluation data shows that children served progress academically, avoid delinquency, and experience increased self-confidence. Founded locally in 1976 as an outreach of Trinity Presbyterian Church, the organization is the largest Big Brothers Big Sisters agency in the state of Virginia, serving 611 children in 2017. For more information, please call 540.433.8886 or visit www.bbbshr.org.