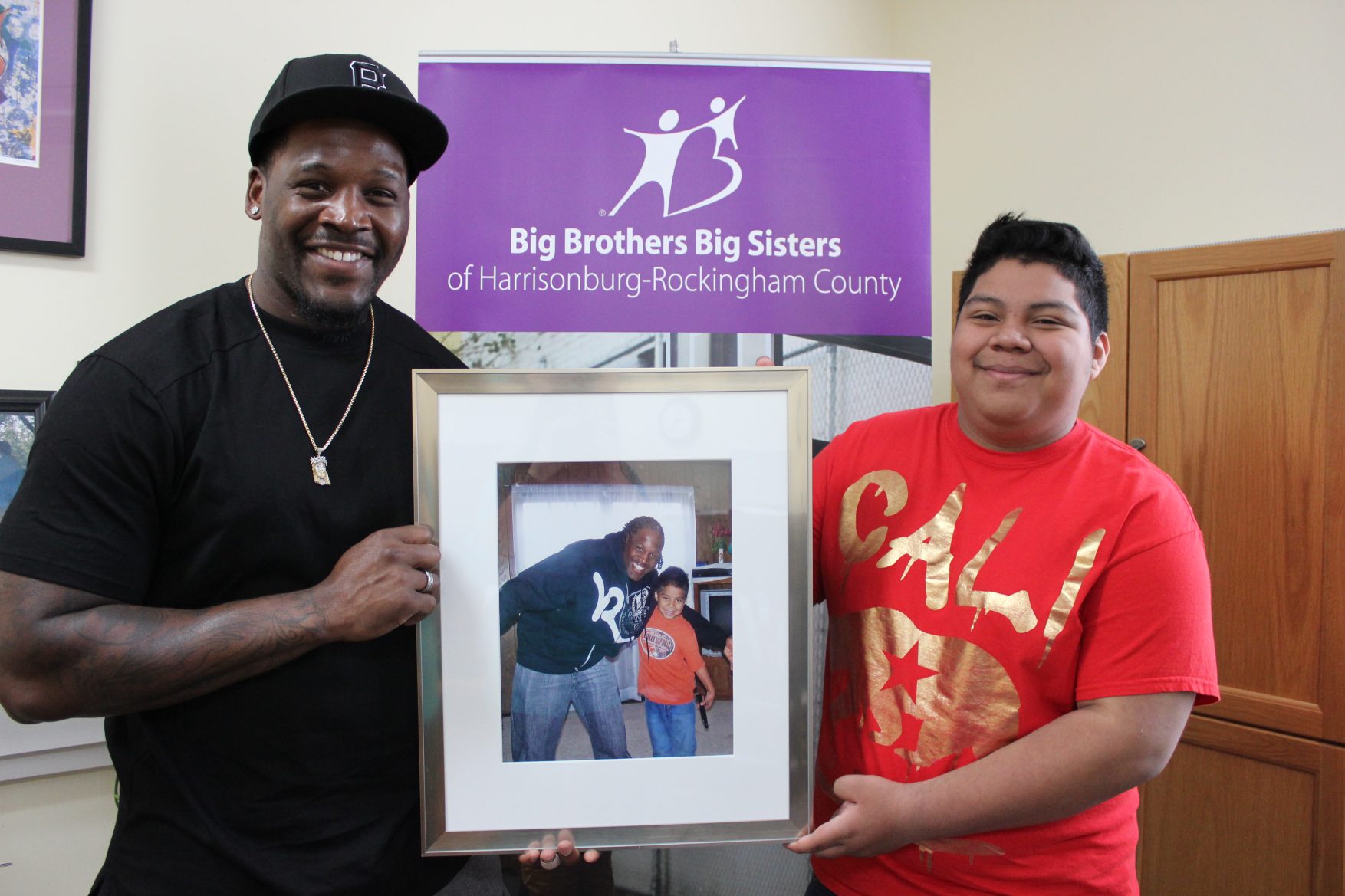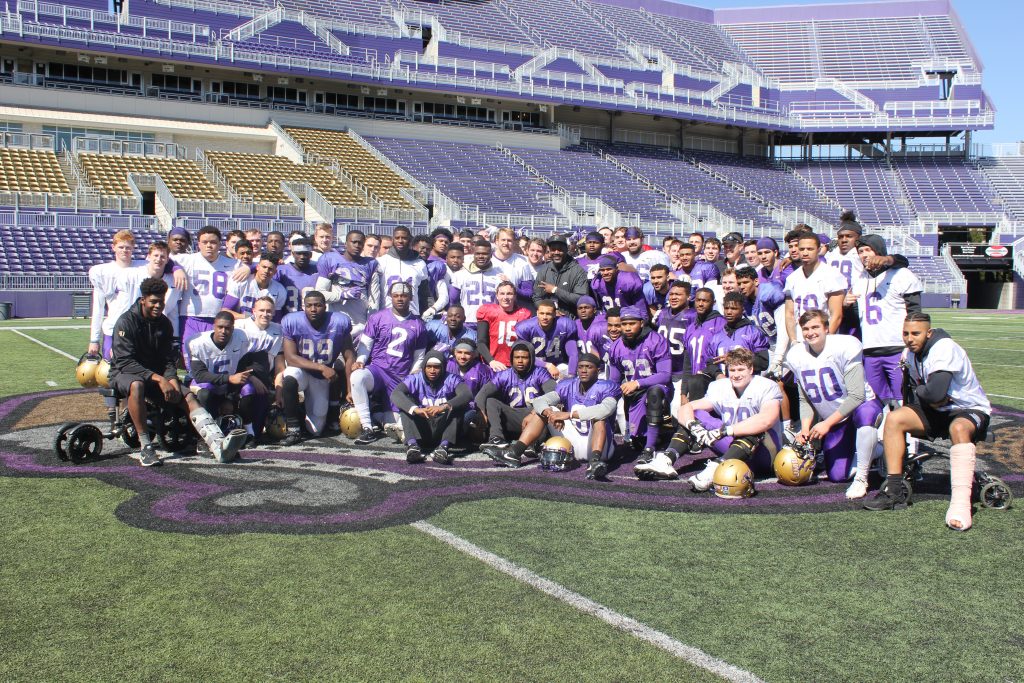 On Saturday, March 31, past Big Brother, JMU football alum, and NFL player Arthur Moats shared with current JMU football players about the importance of mentoring and his personal experience with Big Brothers Big Sisters of Harrisonburg-Rockingham County. During the visit, Arthur also reconnected with his Little Brother Brian who is now a student at Harrisonburg High School. Check out the gallery from Arthur's visit.
From the Daily News-Record:
JMU Alum Moats Stresses Work In Community To Dukes
GREG MADIA | Daily News-Record
PUBLICATION: Daily News-Record (Harrisonburg, VA)
SECTION: Sports
DATE: April 2, 2018
HARRISONBURG — Arthur Moats' message to his alma mater's football team was the same reason he returned to Harrisonburg for a long weekend.
"If all you're doing is winning a championship, that's not enough," said Moats, who played at James Madison from 2006 through 2009 and is currently readying for his ninth season in the NFL. He spent the past four with Pittsburgh and is now a free agent.
The former JMU standout addressed the current team this past Saturday after the squad scrimmaged as part of its seventh practice of the spring.
Moats was the Steelers' Walter Payton Man of the Year nominee in 2016, and was Buffalo's Walter Payton Man of the Year nominee in 2013. The Bills drafted Moats out of Madison in 2010.
When he was in school, he captured the Buck Buchanan Award and the Colonial Athletic Association's Defensive Player of the Year honor for on-field success, but he also said he began understanding how important it was to himself to give back to his community.
He joined Big Brothers, Big Sisters and worked with an elementary schooler named Brian, who's now a student at Harrisonburg High School.
The two met again for the first time since while Moats was in town.
"During the season was when we got back reconnected," Moats said. "We talked on the phone a couple of times and texted, but it was different because I hadn't seen him, so to see him for the first time [Friday] in over eight years, and just to realize that 'Man, this isn't the 7-year-old I met sitting in a booster seat.' This was him at 16 going on 17 with a mustache now.
"It just made it that much more sweeter. Both of us had that feeling of 'Wow, man. You remember me and I remember you, and some of the good times.'"
So Moats wanted to make sure the Dukes that won a national title in 2016 and have played for back-to-back championships valued his message about being more than football player.
"We're here for a reason and I feel like here at JMU we hold our athletes to a higher standard," Moats said. "For us, I feel like it's to make sure we improve the lives of others around us."
Third-year coach Mike Houston had Moats and another JMU alum in the NFL, Jacksonville offensive lineman Josh Wells, visit with and speak to the team over the past two weeks for that exact reason, and to share their experiences about their time at the school.
"I would say that most of the players on this field have dreams of playing in the NFL," Houston said, "and so you've got Josh Wells, who was a walk-on quarterback out of high school and ended up playing tight end, offensive tackle and a little defensive line, and now he's an NFL offensive tackle. That's the dream, you know.
"He comes back and he talks, and the thing that he said he misses is Saturday game days at JMU and just being in this stadium, in front of these fans, and it just really reinforces how special these guys have it here, and what you can do from here.
"And then with Arthur, he's been back multiple times, and certainly is a great role model just like Josh, but they just have such high character and they're doing what they love to do."
Moats also talked football with the group. He's only one of three JMU products to be selected in the NFL Draft since 2010, when he went in the sixth round at 178th overall.
Over his eight-year career, he's racked up 228 tackles, 16.5 sacks and four forced fumbles while fitting in mostly on special teams and some at inside linebacker.
"In college you want to focus more so on the day-to-day," Moats said. "You want to focus on the simple, 'Get better today. Win today,' because when you look at the NFL and try to get there, it can seem to be a daunting task.
"But when you focus on the daily stuff — making sure to get a lift in, the best workout in, and make sure to take care of myself in the classroom — that's going to set you up to make it to this level because you can have the talent, but if you don't have the grades, you're never going to have the opportunity. Or if you have the talent and the grades, but you can't stay healthy because your diet is wrong or you're not working out how you're supposed to, you're never going to get there."
Junior defensive end Ron'Dell Carter was on a knee in the front row, directly to the left of Moats as the team circled around the guest speaker.
After hanging on Moats' words, Carter said it's neat that NFL players take the time to return to campus.
"They're NFL players and they make solid money, but they also, at the end of the day, are regular people," Carter said. "It's good for them to come back and relate and talk to us like regular people. They don't talk to us like they're NFL stars. They talk to us as the student athlete that they were at one point.
"I'm very blessed and appreciative of every time an NFL guy comes back to give their two cents because I want to be at that point one day, so it's a good thing to open your ears up a little bit more and listen to those guys and their advice."
As for how much Moats pays attention to the Dukes, he said he always makes time to keep up with the team. He said he thinks the program in great shape under Houston and has come a long way from when he initially arrived in Harrisonburg.
Curt Newsome, one of former coach Mickey Matthews' assistants, recruited Moats to JMU.
"I had no clue it'd be on this scale," Moats said. "The state of the program is beautiful right now. It's growing from all aspects. From a national standpoint, they're being talked about. You think about big time television games, they're having them. You think about recruits that are coming in and transfers that are coming in, they have all of that.
"I'm a very proud alum, so I want to make sure my guys are putting a great product on the field, which they have been doing these past two years and Coach Houston is doing a phenomenal job, with the staff, the players, it's been amazing.
"I'm excited even more so now to see how they're going to respond to the adversity they face with it being really about two years since they had lost a game. I want to see how they respond to that."
And Moats, who's unsure of where he'll play come this season, said he's just tried to enjoy and not worry about the limbo that is free agency.
"I've done it one year where I worried about the whole season and it drove me nuts," he said. "I've done it the other way where I didn't think about it and that was a lot of fun that way, so I'm going to stick with that approach. I can't control any of it right now.
"The biggest thing is the film shows, the number show, I have to stay healthy and keep working out, and then when the opportunity is right and it's the perfect fit, that's when we'll do what we need to do."
*Reprinted with permission from the Daily News-Record