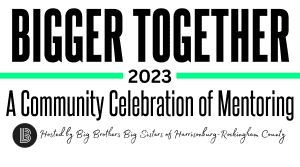 COMING  FALL 2023 . . . . 
Bigger Together 2023, A Community Celebration of Mentoring, is our 10th annual event to raise awareness about the need for one-to-one mentors for local youth facing challenges and celebrate the impact of mentors across our local community. We are now accepting nominations for a mentoring program and mentors in five different categories to be awarded at the event. The electronic nomination form found HERE can be used to make a nomination.
For more information about event sponsorship or with questions, please contact Lindsey Douglas, Executive Director, at [email protected] or 540-433-8886 Ext. 1
We look forward to celebrating the impact of mentors across our community with you!